Description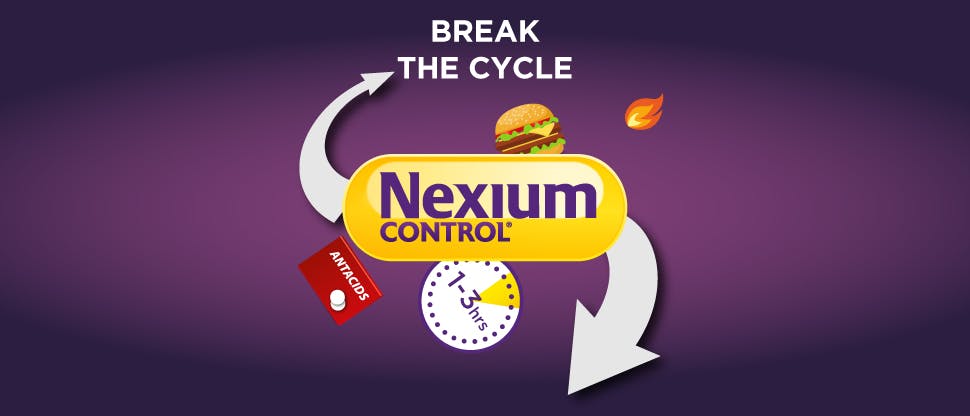 Nexium Control Esomeprazole Tablets are used for the short-term treatment of symptoms associated with reflux such as heartburn and acid indigestion.  The presence of esomeprazole reduces the amount of acid produced by the stomach.
One tablet per day
Long lasting relief of heartburn and acid reflux
How Often Do You Get Heartburn?
More than once a week is classed as frequent heartburn. Patients with frequent heartburn may benefit from a PPI such as Nexium Control to give the oesophagus a 'holiday' from acid and reduce sensitivity.
Contains
 The active substance is esomeprazole. Each tablet contains 20 mg esomeprazole (as magnesium trihydrate).
The other ingredient(s): are glycerol monostearate 40-55, hyprolose, hypromellose, iron oxide (reddish-brown) (E 172), iron oxide (yellow) (E 172), magnesium stearate, methacrylic acid ethylacrylate copolymer (I:I) dispersion 30 per cent, cellulose microcrystalline, synthetic paraffin, macrogol 6000, polysorbate 80, crospovidone (Type A), sodium stearyl fumarate, sugar spheres (sucrose), talc, titanium dioxide (E 171) and triethyl citrate.
See package leaflet for further information.
Do not use
If you are allergic to esomeprazole or any of the ingredients of this medicine.
Talk to your pharmacist or doctor if:
You are taking any medicines listed in the package leaflet.
You are over 55 and have new or recently changed reflux symptoms.
Storage Instructions
Do not store above 30°C.
Store in original package in order to protect from light.
Keep the product out of the reach and sight of children.
Read the package leaflet before use. HERE
Please Note
This item is a medicine and for safety reasons our O'Sullivans Pharmacist will review this purchase before dispatch.
To allow our pharmacist to ensure it is appropriate for you to take this medicine we will ask you to complete a form with a few simple questions. Please complete as fully as possible to ensure no delay in dispatch. This is because we take safety seriously and wish to ensure that all medicines we sell are suitable for the person it is intended for. If our pharmacist has any concerns they will contact you by phone to find out some additional information to ensure this product is appropriate for you.
If they are unable to speak to you when required, your order may be delayed or the pharmacy medicine part of your order cancelled.
We can only sell one product of this medicine per transaction. Should you have reason to require more, please call  065 682 8765  (weekdays 9:30am – 6pm) or email shop@osullivanspharmacy.com and we will have a pharmacist call you as soon as possible.
You Must Be Aged Over 18 Years to Purchase This Product. MAXIMUM order quantity of ONE pack per order.